Northeast Entrance Road
The Northeast Entrance Road is one of five roads that provide access to the Grand Loop Road and the rest of Yellowstone. This is the route usually taken by those staying in, or passing through, the town of Cooke City, Montana on the way, or coming via the Beartooth Highway. The Northeast Entrance Road is open all year. Note, however, that Beartooth Pass is generally closed October through May.
Mile 0 – Northeast Entrance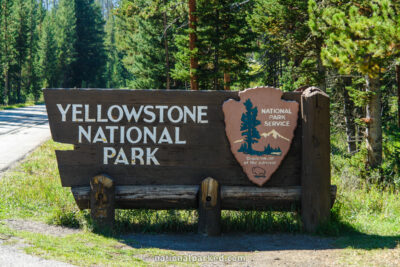 The entrance sign welcomes you to Yellowstone National Park. A half mile beyond the road passes through the entrance station. The park entrance fee must be paid or a valid pass shown.
Mile 8.8 – Thunderer Trailhead
The road goes by a small parking area for the Thunderer Trail. This is a long and difficult dayhike into a seldom-seen area of the Yellowstone backcountry.
Mile 9.8 – Pebble Creek Campground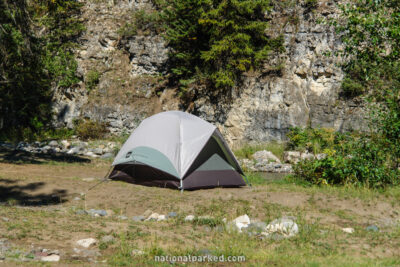 The Pebble Creek Campground is on the right. Just before this is the Pebble Creek Trailhead. Just beyond the campground, the road enters the beautiful Lamar River Valley. For more on the campground, see Yellowstone Camping.
Mile 11.0 – Trout Lake Trailhead
The road passes the parking area for the Trout Lake Trailhead. This is a popular and short dayhike to 12 acre Trout Lake.
Mile 13.1 – Soda Butte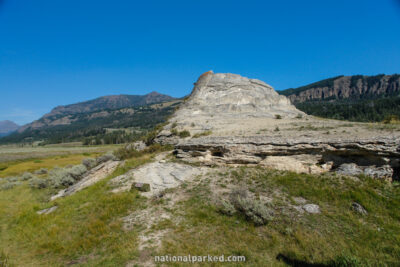 A pullout on the left provides parking for Soda Butte. This is a small travertine formation in an otherwise normal looking meadow.
Mile 14.1 – Lamar River Trailhead
The parking area for the Lamar River Trailhead is on the left. This is a popular trail that can be anywhere from a short dayhike to a backpacking trip of several days.
Mile 18.3 – Lamar Ranger Station & Yellowstone Institute
The Lamar Ranger Station is on the right. The Yellowstone Institute is also located here.
Mile 23.1 – Slough Creek Campground
An unpaved road on the right leads to the primitive Slough Creek Campground. See Yellowstone Camping for more information.
Mile 27.0 – Specimen Ridge Trailhead
The road passes by the Specimen Ridge Trailhead. This is a very long dayhiking route that is for experienced and well-conditioned hikers only.
Mile 29.1 – Tower Junction
The road arrives at Tower Junction. A left turn joins the Grand Loop Road on the Tower to Canyon section. Straight ahead is the Roosevelt Lodge. A right turn joins the Mammoth to Tower section.