Much of Yellowstone's infrastructure was severely damaged in the floods of June 2022. The largest effects were on the North Entrance Road, which was completely destroyed in several areas. An alternate route is in place until further notice and the road log below is irrelevant. All information is subject to change.
North Entrance Road
The North Entrance Road is one of five roads that provide access to the Grand Loop Road and the rest of Yellowstone. This is the route usually taken by those staying in, or passing through, the town of Gardiner, Montana on the way, or coming from the I-90 corridor in general. The North Entrance Road is one of the few park roads open all year.
Mile 0 – Roosevelt Arch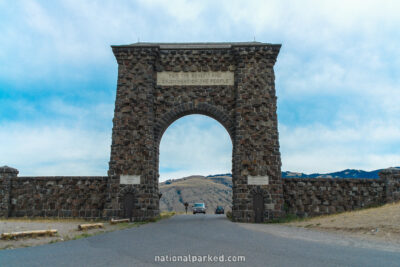 The road passes through the Roosevelt Arch just before entering the park itself. The arch commemorates the creation of the world's first national park, as said on the arch, Created by act of Congress March 1, 1872. Beyond is the traditional national park entrance sign. About a half mile down the road is the entrance station, where the entrance fee must be paid or a valid pass shown.
Mile 1.1 – Rescue Creek Trailhead
The road goes by the parking area for the Rescue Creek Trailhead. This is a long dayhike or short overnight hike into the Yellowstone backcountry that receives very little use.
Mile 2.9 – Boiling River Trailhead
Parking areas for the Boiling River area are on both sides of the road. An easy half mile trail leads to a spot on the Gardner River where a hot spring discharge enters, significantly heating the surrounding river water. Originally popular mainly with employees and locals, this is now an extremely popular spot at all times of the year.
Mile 4.1 – Lava Creek Trailhead
The road passes by a small parking area for the Lava Creek Trailhead. This is another hike similar to the Rescue Creek trail above, but it is much more heavily used, frequently by horse parties. Undine Falls, more often seen on the Mammoth to Tower section of Grand Loop Road, can be seen from a different perspective from this trail.
Mile 4.5 – Mammoth Campground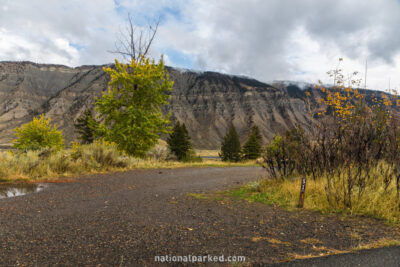 The Mammoth Campground is on the right side. This is the only campground in the park that is open all year. See Yellowstone Camping for more information.
Mile 5.3 – Mammoth Junction
The road arrives at Mammoth Junction. A left turn joins the Mammoth to Tower section of the Grand Loop Road. Straight ahead is the Norris to Mammoth section.