This page contains affiliate links. Purchases made through them may earn us a small fee.
Sleeping in or near Yellowstone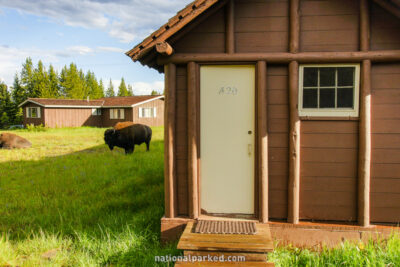 Yellowstone has a large number of lodging choices within the park. They include hotels and/or cabins at Mammoth, Old Faithful, Grant Village, Lake, Canyon, and Roosevelt. There are over 2,000 rooms available in the height of the season. Reservations are needed far in advance. Lake Lodge Cabins are shown to the left, along with bison visitors.
West Yellowstone overnight lodging options
The town of West Yellowstone, Montana, is directly outside of the West Entrance, at the beginning of the West Entrance Road. It is the closest to the geyser basins and much of the more popular areas of the park Note that in the case of the enormous Yellowstone, "close" is a relative term. Most West Yellowstone hotels are independent, non-chain hotels, most of which can easily be found with the search link below.
Links to explore West Yellowstone lodging options
Gardiner overnight lodging options
The town of Gardiner, Montana is right outside of the North Entrance, at the beginning of the North Entrance Road. This is the entrance to Yellowstone that is open all year, and services in Gardiner are at least somewhat available all year. Gardiner is very close to the Mammoth Hot Springs area of the park. Again, most of the lodging choices are independent of chains, and can be found with the search link below.City text
Links to explore Gardiner lodging options