This page contains affiliate links. Purchases made through them may earn us a small fee.
Sleeping in or near Yosemite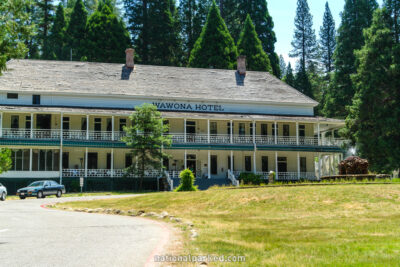 Yosemite National Park has several lodges inside park boundaries. There is a wide variety in Yosemite Valley, a tent cabin village at Tuolumne Meadows, and the Wawona Hotel, at left. Most lodging is high priced in the extreme, and reservations are generally needed far in advance, as with most national park lodges. Yosemite also has a number of "inholdings", private land within a national park. There are a few areas of lodging in these areas as well.
In Yosemite Valley
Outside Yosemite Valley
Oakhurst overnight lodging options
The city of Oakhurst is located south of the park, a drive of about an an hour to the valley. It is closest area to Mariposa Grove and Wawona.
Links to explore Oakhurst lodging options
Mariposa overnight lodging options
The town of Mariposa is west of the park, also an hour drive to the valley, and is closest to El Portal and the west side of the Tioga Road.
Links to explore Mariposa lodging options