This page contains affiliate links. Purchases made through them may earn us a small fee.
Sleeping in or near Death Valley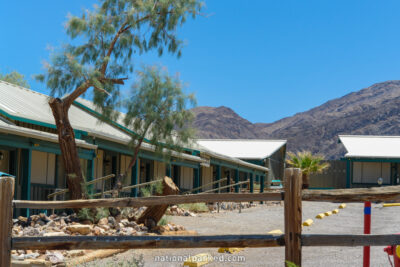 Death Valley National Park has three concessioner-operated lodges inside park boundaries. The Ranch at Death Valley and the Inn at Death Valley are in the Furnace Creek area, and are certainly the closest to the most commonly visited areas of the park. Stovepipe Wells Village is along CA-190 in a more central location in the park. Reservations are generally needed in advance, as with most national park lodges. The enormous size of the park makes staying inside it much more valuable than most other parks.
Beatty, Nevada overnight lodging options
Beatty is a small town in Nevada, near Death Valley National Park and the California state line. It is only 10 miles to the border of the park, but quite a bit further to the main tourist areas. For example, it is a 40 mile drive to the Furnace Creek area. There a few lodging options here.
Links to explore Beatty lodging options
Lone Pine, California overnight lodging options
Lone Pine is a town in California that lies along US-395. It is about 35 miles from where CA-190 enters Death Valley National Park at its western entrance. There are some scenic areas at this end, but the "main" part of the park around Furnace Creek is a drive of just over 100 miles. As mentioned above though, long driving distances are a fact of life in Death Valley.
Links to explore Lone Pine lodging options