This page contains affiliate links. Purchases made through them may earn us a small fee.
Sleeping in or near Virgin Islands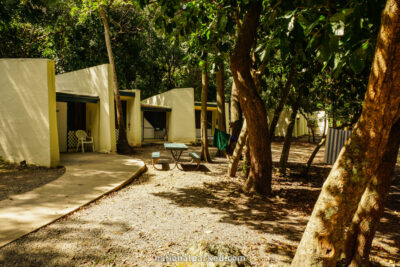 There is limited lodging within the boundaries of the national park, in the form of cabin and tent rentals in the Cinnamon Bay area. Some of these are shown to the left. For more information, see the cottages page on the park concessionaire's site.
St. John overnight lodging options
Lodging on the island of St. John is mainly in the form of privately rented villas, with a few exceptions. There are small hotels in some areas, as well as a few lavish resorts. The price search link below will show you most of the choices. Just be aware that some of the results will actually be on the island of St. Thomas. For a convenient national park visit, you will want lodging on St. John.
Links to explore St. John lodging options