This page contains affiliate links. Purchases made through them may earn us a small fee.
Sleeping in or near Sequoia & Kings Canyon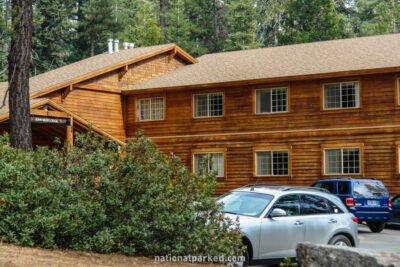 Sequoia and Kings Canyon National Parks are two very big places, with the Sequoia National Forest surrounding, and at times intervening between the two. Since it makes little sense to separate them (even the NPS treats the two parks as one) we cover it all together.
There are in-park lodges in all three units. The John Muir Lodge, in Kings Canyon, is shown at the left. Cedar Grove Lodge, John Muir Lodge, and Grant Grove Cabins are also in Kings Canyon. The Wuksachi Lodge is in Sequoia National Park near Giant Forest. The Stony Creek Lodge and Montecito Sequoia Lodge are in Sequoia National Forest.
Three Rivers overnight lodging options
Outside the park lodging is available in the town of Three Rivers, just outside of the Ash Mountain Entrance of Sequoia. While Three Rivers is a small town, all the basic services are available.
Links to explore Three Rivers lodging options