This page contains affiliate links. Purchases made through them may earn us a small fee.
Sleeping in or near Grand Canyon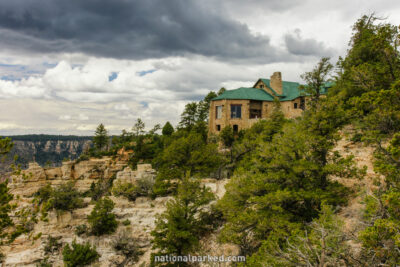 Grand Canyon National Park has numerous lodges within its boundaries. All but one of these is on the South Rim. The Grand Canyon Lodge, shown at left, is on the North Rim. Be aware that although the two rims are close, a 5 hour drive is necessary to go from one to the other. Even more so than most national park lodging, reservations are needed FAR in advance. Wait until six months before your trip and you will most likely be out of luck in the summer.
North Rim
South Rim
Tusayan overnight lodging options
Just outside the South Entrance is the small town of Tusayan. A few hotels are available here. The city of Williams is about an hour south of the entrance. The North Rim is extremely remote and has little lodging near it other than the in-park Grand Canyon Lodge.
Links to explore Tusayan lodging options