Hiking Trails in Everglades
Most travel routes within the park are actually canoe routes. However, there are several short dayhiking trails available, mostly along the park road between Royal Palm and Flamingo. As with the rest of the park, outside of the dry season December through April huge numbers of mosquitoes will make these trails all but inaccessible.
Hiking distances given below are total, roundtrip distances unless otherwise stated. Difficulties are only a general guideline, for an adult in good condition, and do not take into account trail length. We strongly recommend you also have a good Everglades Trail Map with you.
Anhinga Trail
The Hike: The Anhinga Trail may qualify as the one must-do short hike in the park. During the dry season, massive numbers of wading birds, fish, and alligators congregate here, in the relatively deep waters of the area. Seeing alligators is virtually guaranteed here, as are an almost unimaginable number of different birds. Rangers frequently lead walks on this trail, so if the plentiful alligators concern you, consider some company. Note that there are some short sidetrips along the boardwalks, but the overall loop distance is generally about a mile, almost all on boardwalk.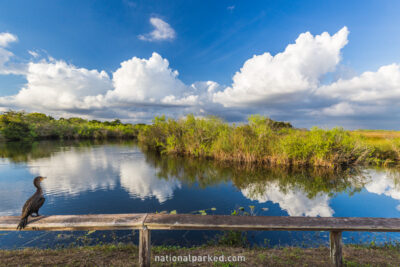 Mahogany Hammock
The Hike: This route follows an elevated boardwalk into the hammock, a heavily wooded area raised slightly above the surrounding marsh. This isolation and relative coolness makes it a favorite place for the park's mammals.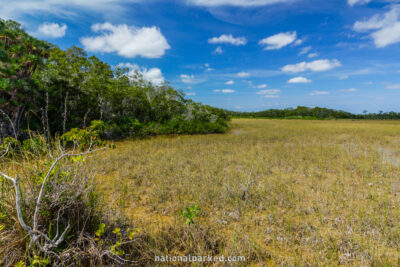 Pa-hay-okee Overlook
The Hike: This short trail leads to an overlook of the surrounding river of grass and is considered by many to be the best vista point in the park. Don't miss the view from here on a clear day.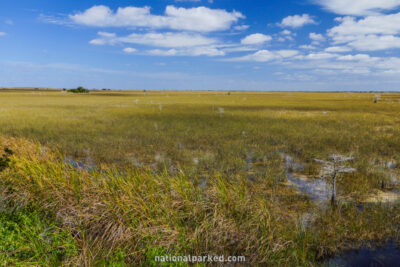 Pinelands
The Hike: This short, paved loop trail winds through pine rockland habitat. This is the best and easiest way to get a look at this ecosystem within the park.