Rim Drive (Part 3)
The Rim Drive encircles Crater Lake, allowing views of the lake from nearly every angle. We cover this road in three sections. Below is the last part, starting at the North Entrance Road and continuing on to the end at South Entrance Road. For the other two sections, see Rim Drive Part 1 and Rim Drive Part 2.
Mile 25.6 – Watchman Trailhead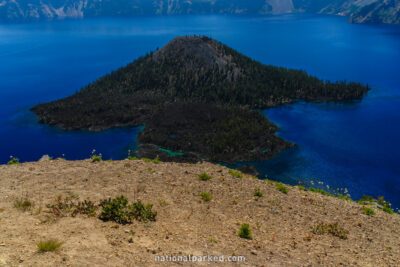 The parking area for the Watchman Trail and the Wizard Island Overlook is on the left. This is a very popular area. It provides the closest view of Wizard Island, a cinder cone rising above the lake surface. The Watchman Trail climbs to an observation tower.
Mile 27.1 – Lightning Springs Picnic Area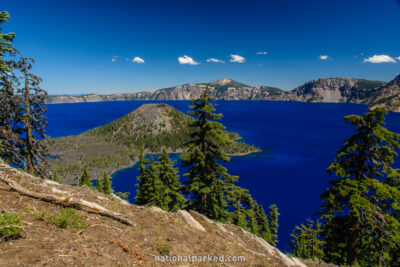 The Lightning Springs Picnic Area is on the left. In addition, outstanding views can be had of the lake at the top of the rise. The edge is unprotected here, so use extreme caution. Ground can crumble very easily on the edge of Crater Lake.
Mile 28.3 – Discovery Point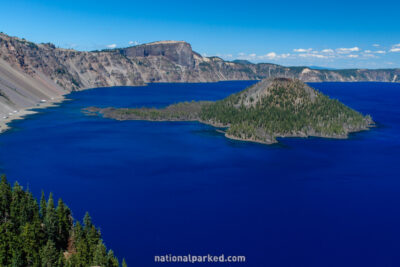 Discovery Point is on the left. This is the last major viewpoint along the road. It is also the first viewpoint for those coming the other way on the road, so it is often quite crowded.
Mile 29.5 – Rim Village
The large Rim Village area is to the left. Facilities include a restaurant, visitor center, shops, and the Crater Lake Lodge. See Crater Lake Lodging for more details.
Mile 32.3 – Visitor Center
The road passes by another visitor center and the park's administrative offices.
Mile 32.4 – South Entrance Road
The loop of the Rim Drive concludes. Straight ahead is the South Entrance Road, which meets up with OR-62 in 3.8 miles. This road then leads either west toward Medford or south toward Klamath Falls. The Rim Drive begins again to the left, with Rim Drive Part 1.