This page contains affiliate links. Purchases made through them may earn us a small fee.
Sleeping in or near Crater Lake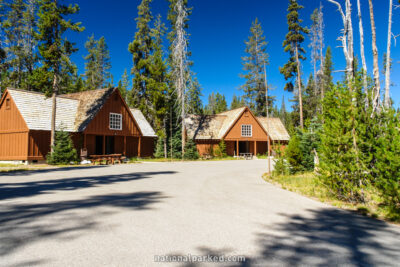 Crater Lake National Park has two lodges inside the park boundaries. The Crater Lake Lodge is on the rim of the lake in Rim Village. The Cabins at Mazama Village, pictured to the left, are in Mazama Village 3.6 miles from Rim Drive on the South Entrance Road. Reservations are generally needed far in advance, especially for Crater Lake Lodge.
Lodging in Union Creek, Chemult, and Chiloquin
Lodging near Crater Lake is very limited. There are a few independent choices in the tiny towns in the general area. Use the search links below to find available choices in the area.
Links to explore Crater Lake area lodging options
Lodging in Medford and Central Point
The nearest city with a good selection of lodging and other services is Medford. Although it is about 90 minutes from the West Entrance, most people visit Crater Lake in a single day, so staying in Medford can work out well.
Links to explore Medford lodging options