Hiking Trails in Canyonlands
Canyonlands contains some of the most remote landscape remaining in the United States. Its backcountry is the realm of the serious backpacker and adventurer. Most of its trails lead far from roads, and many start far from them. Below we cover a few of the short dayhikes accessible from paved roads in either the Island in the Sky or Needles District.
Hiking distances given below are total, roundtrip distances unless otherwise stated. Difficulties are only a general guideline, for an adult in good condition, and do not take into account trail length. We strongly recommend you also have a good Canyonlands Trail Map with you.
Mesa Arch
The Hike: This short and easy loop trail provides the easiest access to an arch within the park and is an excellent choice for a quick break from the car. Beyond the arch is a large dropoff, so do not go beyond. This is a popular area for photography, especially sunrise photography.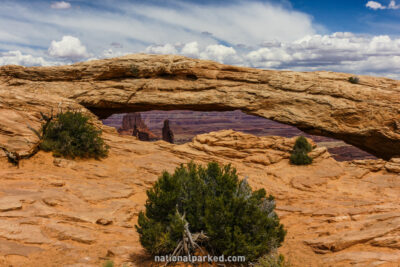 Pothole Point
The Hike: This short and very scenic loop traverses an area of slickrock, covered with depressions over much of the surface. These "potholes" hold valuable water after rains and are an important source of water for wildlife.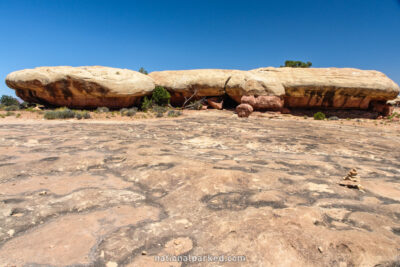 Roadside Ruin
The Hike: This very short and easy loop trail passes by an ancestral Pueblo granary. The park has many such structures throughout the area.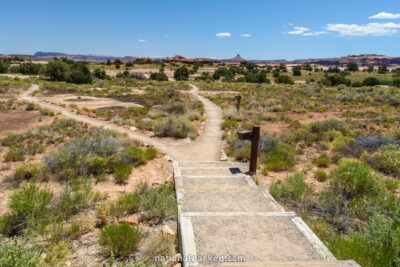 Whale Rock
The Hike: The route goes over mostly slickrock as it climbs the Whale Rock formation; cairns and handrails mostly mark the route. At the top is an excellent 360 degree panorama of the entire Island in the Sky area.