Hiking Trails in Capitol Reef
Capitol Reef is a remote park, dominated by barely accessible backcountry. Hiking opportunities in those areas are nearly limitless. We concentrate here on those hikes that can be easily reached by vehicle, in the small developed area of the park east of Torrey. The best hiking season in Capitol Reef is spring or fall, as summer can make the mostly shadeless hikes uncomfortably hot.
Hiking distances given below are total, roundtrip distances unless otherwise stated. Difficulties are only a general guideline, for an adult in good condition, and do not take into account trail length. We strongly recommend you also have a good Capitol Reef Trail Map with you.
Capitol Gorge to the Tanks
The Hike: The route is mostly flat until the end, where a side trail climbs up for a view of the "tanks", holes in the rock which often hold rare and life-saving water. Scenery all along the trail, passing through the gorge, is excellent.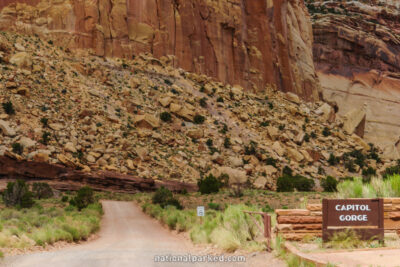 Goosenecks Point
The Hike: This is a very short trail that climbs briefly before crossing the rocks to a formal fenced overlook at one of the best vista points in the park. Note that while the actual overlook is fenced, the rock can be climbed on anywhere, and there are no such barriers anywhere else, so use extreme caution.
Grand Wash
The Hike: This is a relatively easy walk along a (usually) dry wash, hemmed in on both sides by rock wall, getting as narrow as 16 feet at one point. This hike is most often done as a "shuttle" hike, by leaving a vehicle at one end and getting a ride to or driving a second vehicle to the other end.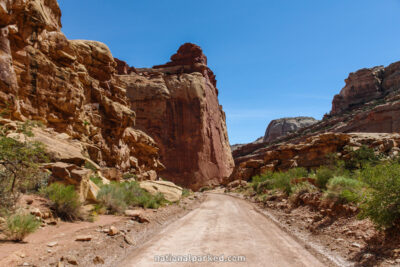 Hickman Bridge
The Hike: The trail briefly follows along the Fremont River before climbing steadily up above it. The trail eventually levels out and crosses over an area of rock, before splitting into a small loop that goes around and under the bridge.