This page contains affiliate links. Purchases made through them may earn us a small fee.
Sleeping in or near Olympic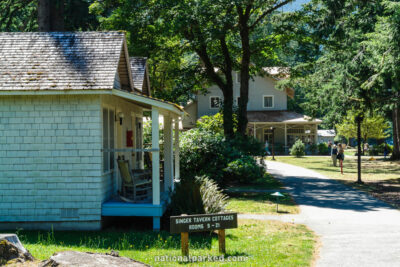 Olympic National Park has lodging in three locations inside park boundaries. The Lake Crescent Lodge and Log Cabin Resort are located at Lake Crescent. The Kalaloch Lodge is along the Pacific Ocean at Kalaloch. The Sol Duc Hot Springs Resort is located along the Sol Duc Road in the temperate rainforest. Reservations are generally needed far in advance, as with most national park lodges.
Forks overnight lodging options
Forks is a small town on the west side of the park that US-101 cuts through on its way around the Olympic Peninsula. Forks has all necessary services, and is the best location for the Pacific Coast areas and the Hoh Rain Forest.
Links to explore Forks lodging options
Port Angeles overnight lodging options
Port Angeles is the largest town near the main Olympic National Park areas. The road to the popular Hurricane Ridge area leads directly out of Port Angeles. Sol Duc and Lake Crescent are also within a reasonable distance, although the Hoh Rain Forest and Pacific Coast are lengthy drives from here.
Links to explore Port Angeles lodging options