This page contains affiliate links. Purchases made through them may earn us a small fee.
Sleeping in or near Glacier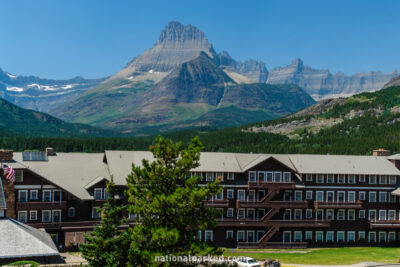 Glacier National Park has several lodges inside park boundaries. Locations include Apgar Village, Lake McDonald, Rising Sun, and Many Glacier (the Many Glacier Hotel is shown at left). Reservations are generally needed far in advance, as with most national park lodges.
West Glacier & East Glacier overnight lodging options
Outside lodging for the park is located in several areas. Limited lodging is available just outside the park in the towns of West Glacier and East Glacier Park.
Links to explore Glacier lodging options
Whitefish overnight lodging options
More varied options are available in Whitefish (25 miles and 30 minutes from the West Glacier Entrance). Columbia Falls is a bit closer to the park and has a few choices as well.
Links to explore Whitefish lodging options