The Roads of Black Canyon of the Gunnison
Black Canyon of the Gunnison's south rim is served up by an easy to navigate paved road. There are some good views from the roadside, but most of the viewpoints require a walk from a few feet to half mile. It measures 7.6 miles from the entrance sign to its end at the High Point area, for an out and back drive of 15.2 miles (there is no loop option).
The drive is the continuation of CO-347, accessed off of US50 about 6 miles east of Montrose. The north rim is much more remote, reachable only by a maintained but unpaved road. We do not yet have coverage for this area, but will in the future.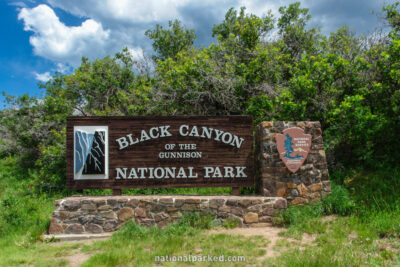 Start Point: Mile 0 – Entrance Sign
End Point: Mile 7.6 – Road End at High Point