Hiking Trails in Biscayne
As Biscayne National Park is almost entirely underwater, there is not much in the way of hiking trails to choose from. However, a couple of short walks can be found.
Hiking distances given below are total, roundtrip distances unless otherwise stated. Difficulties are only a general guideline, for an adult in good condition, and do not take into account trail length.
Boca Chita Key
Trail Length: 0.5 mile loop
Trail Difficulty: Easy
Trail Traffic: Light
Finding the Trailhead: On Boca Chita Key; a boat is required to reach the island.
The Hike: This trail is a short loop around the part of Boca Chita Key away from the campground and dock. It leads through the vegetation, at times providing good views of the coastline.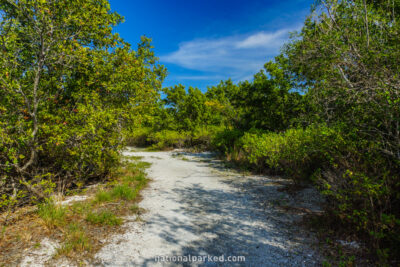 Convoy Point
Trail Length: 0.6 miles out and back
Trail Difficulty: Easy
Trail Traffic: Medium
Finding the Trailhead: Behind the Dante Fascell Visitor Center
The Hike: This short walk is the only real trail opportunity on the mainland part of Biscayne National Park. It leaves from near the visitor center and crosses the water on a long bridge. It then follows a short jetty out into the water.