This page contains affiliate links. Purchases made through them may earn us a small fee.
Sleeping in or near Zion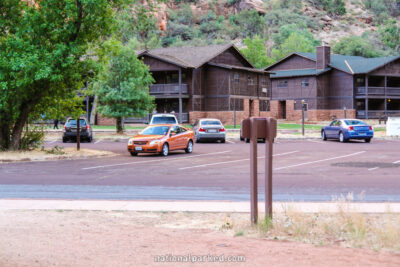 The Zion Lodge is the only place within the park borders to spend the night, unless you are camping. Accommodations are basic, as with most national park lodges, but what you are paying for is the location. Both standard motel rooms and cabins are available. The lodge also has a restaurant and snack bar.
Springdale overnight lodging options
The closest outside lodging is in the town of Springdale, right outside of the south entrance. Shuttles can be ridden from the town to the Zion Canyon Visitor Center, sometimes right from the hotel parking lot. Of course, there is usually a significant price premium to be paid for this location.
Links to explore Springdale lodging options
Virgin and La Verkin overnight lodging options
Lodging is also available in the towns of Virgin and La Verkin, a 20 or 30 minute drive, respectively, beyond Springdale. Just beyond La Verkin is the city of Hurricane. It is much larger, with a full range of services. The lowest rates for services, lodging included, are in Hurricane.
Links to explore Virgin and La Verkin lodging options