Carlsbad Caverns Cave Tours
The National Park Service offers several tours within the caverns of various lengths and difficulties. Most are available only with a ranger as guide at specific times, but two very scenic routes are self-guided; these are described below.
Distances given below are total, roundtrip distances unless otherwise stated. Difficulties are only a general guideline, for an adult in good condition, and do not take into account tour length.
Big Room (self guided)
Trail Length: 1.2 miles
Trail Difficulty: Easy
Trail Traffic: Very Heavy
The Tour: This is the most commonly taken tour in the park, for good reason. It is easy (an elevator can be taken down to the tour level) and flat, it requires no reservations or guide, and it tours some of the most decorated cave areas publicly accessible anywhere. The Big Room is well-named; it covers 357,480 square feet or 8.2 acres. When most people think of caves, and Carlsbad Caverns in particular, they are likely thinking of formations seen on this tour.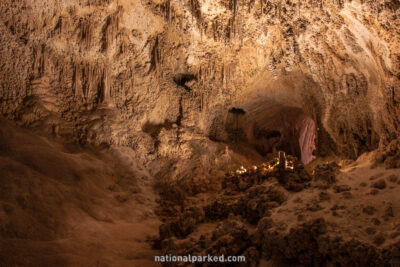 Natural Entrance (self guided)
Trail Length: 1.3 miles
Trail Difficulty: Moderate
Trail Traffic: Medium
The Tour: Anyone able should bypass the elevator ride down to the Big Room and take this route instead. It steeply descends on a paved surface almost the entire distance, so it can be rather hard on the legs, especially the knees. It is a unique experience to drop into the cave, the sun's light dimming gradually, bats (harmless) often entering and exiting the massive opening far overhead. While not as massively decorated as the Big Room, there are plenty of amazing formations to view on the way down.